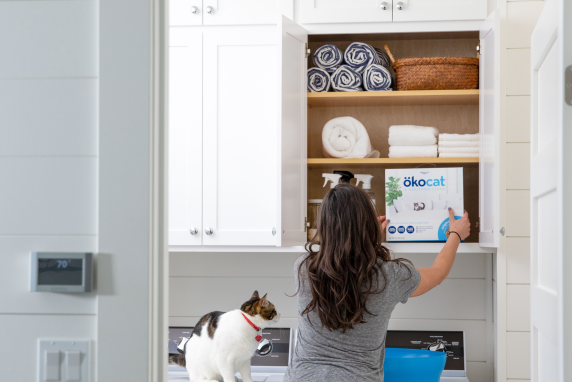 Cat owners will now be able to find ökocat's plant-based cat litter in more PetSmart and Petco stores across the United States and Canada.
Ökocat, a brand of Ferndale, Wash.-based Healthy Pet, is growing its PetSmart distribution to nearly 1,300 stores in the United States and more than 140 stores in Canada. In addition to continuing to sell both ökocat Original and Super Soft litter, PetSmart will also carry Less Mess low tracking mini-pellet litter.
"Our Less Mess clumping litter consists of dense mini-pellets that are soft on paws, but less likely to track," said Leslie Ellis, communications manager at ökocat. "It stays in the litter box, so it's great for the over-zealous digger or long hair cats. Over the past year, we've had great success with both the original and super soft in PetSmart stores, so we're looking forward to providing cat parents with even more options."
Ökocat is also introducing two new exclusive litters to nearly 1,200 Petco stores across the United States. This expansion includes the introduction of a new litter, Low Tracking mini-pellets, and the addition of a new size, large Featherweight litter, previously only sold in medium.
"Ökocat litter is better for our cats, our homes and our planet," Ellis said. "We're excited about this expansion because it gives us the opportunity to help even more cat parents make cleaner, healthier choices for their cat, family and home."