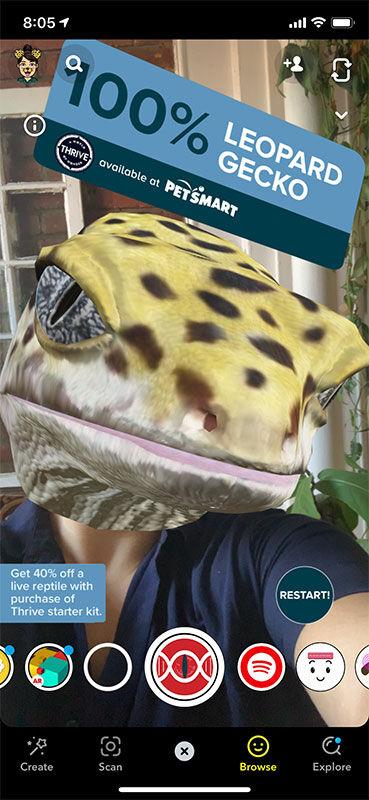 PetSmart is launching its first ever Snapchat Augmented Reality (AR) campaign to promote interactive, educational content about reptiles to customers that are sheltering in place during the COVID-19 pandemic.
Prior to COVID-19, in addition to in-store adoption and seasonal events, PetSmart held an event called "Reptile Roundup." The event was part of a free summertime educational series designed to teach children about reptiles by offering attendees the opportunity to hold reptiles, ask questions and learn about pet care.
The Snapchat AR campaign aims to continue that educational content in lieu of those in-store reptile events.
The Snapchat "Lens" allows users to answer questions about reptiles in a true/false-style test format. Those who answer the questions correctly will find their own faces slowly morphing into a reptile. In addition, The Lens includes a prompt that Snapchatters can tap through to receive an offer for 40 percent off a reptile with the purchase of a PetSmart Thrive starter kit, which customers can bring into stores to pick out their new pet and learn how to care for it with the help of an associate.
"With families continuing to spend more time at home, there's been no better time to introduce pets into the household," PetSmart officials said in a statement.
As quarantine has kept people home these past few months, PetSmart saw 50 percent more pet owners add reptiles to their families, the company reported.